Sam Adams Alpine Spring Description Essay
Introduced as a spring seasonal just two years ago, Samuel Adams Noble Pils has quickly become one of the most popular beers to come out of the Boston Beer Co. So what did Sam do this year? Replace Noble Pils with another beer.
OK, settle down. Noble Pils is not going away. Far from it. Because of the widespread love for the Czech pilsener, it is now a year-round brew. To fill its slot as a spring seasonal, Sam Adams has released Alpine Spring.
Alpine Spring is a Munich Helles lager, a golden German beer that is less hoppy and marginally maltier than Noble Pils. Hazy golden with a frothy head that looks like it belongs on a cappuccino, Alpine Spring is well carbonated with a crisp aroma containing lemon accents. It smells German.
Indeed, Alpine Spring is a refreshing light lager with a lemony zing and a creamy mouthfeel. There is no confusing this with a macrobrewed light lager, though; this one has way more body. It's not quite as interesting or unexpected as Noble Pils, but it's a solid (if safe) addition to the Sam stable. It may not stand out among a crowded tap lineup in a craft beer bar, but no one's going to order one and say, "Yuck, what the heck is this?"
One gripe, if I may: Brewers are releasing their seasonal ales way too early. This one was on the shelves in January. Really, Sam? A spring beer in the first half of winter? Alpine Spring would be a good beer to have in late spring, even summer. Alas, it'll be gone by then.
Alpine Spring, which is 5.5 percent alcohol by volume, is available in six-packs for about $8 to $9 and in the new Brewer's Choice 12-pack for around $14.
That variety pack also contains two other new beers that are not quite as successful: Mighty Oak (5.7 percent ABV) is an amber ale dominated by caramel and biscuity malts, but it's a few turns too sweet. Whitewater IPA (5.8 percent ABV), a hybrid of a white wheat ale and an India pale ale, is an unbalanced, astringently bitter beer that reeks of lemons, grapefruits, and flowers. I love bitter beers, but the two styles in this one don't reconcile; there's too much going on, and it all clashes.
Email me at greenlee@globe.com. Follow me on Twitter @SteveGreenlee.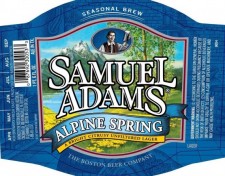 From Samuel Adams – This unfiltered lager is the perfect brew for spring—flavorful enough for cooler weather but with a balance of bright citrus & crisp maltiness that herald the warmer months to come.  A single hop brew with Noble Tettnang hops from the foothills of the Alps, its smooth, refreshing & unique.
Boton Beer Co. – Samuel Adams Alpine Spring – 12 oz. bottle – 5.5% abv.
Appearance:  Pours a bright hazy amber gold. Atop sits a thin cap of white foam that leaves behind spotty lacing.
Aroma:  Orange like citrus notes, fresh herbal hop.
Taste:  Bready, lightly toasty pale malt, a little bit of esters, finishes with some nice spicy hops.
Mouthfeel: Very full bodied, average carbonation.
Overall: Delicious, refreshing unfiltered craft lager. As long as this isn't past prime or mishandled, I believe you will like it as well.